MANCHESTER – On Thursday, Central High School's Student Advisory Committee (SAC), in partnership with GEAR UP and the Boys & Girls Club, hosted the first Lift Every Voice Summit. The event was the first of its kind, but the second produced by the Student Advisory Committee – and based on event feedback, there will be more to come.
With backing from Central's administration and support from staff and community members, students organized and led the event from start to finish. The goal of the summit was to create an environment for students to feel empowered, encouraged to become more involved, and uplifted to use their voices. Throughout the event, students were challenged to utilize their problem-solving, critical thinking, and relationship-building skills to shape a supportive and safer environment within their school community.
"The SAC summit was an incredible success, fueling a renewed sense of purpose and direction within the community," said sophomore Shingirai Moyo, a member of the advisory committee. "The buzz before the event was electric, and the momentum carried through to the end, where attendees were left hungry for more engaging activities. The tireless efforts of the leadership team were finally being recognized, and it was gratifying to witness the tremendous impact of the summit."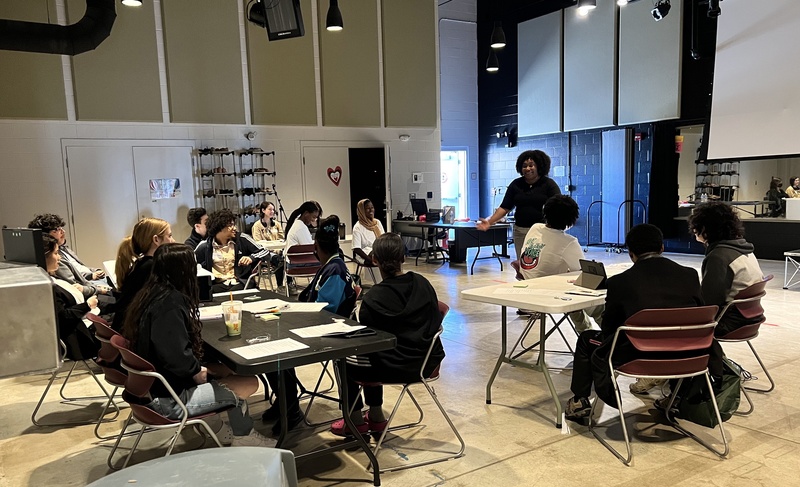 Central Principal Deb Roukey was at the event throughout and spoke to attendees about her support for student-driven efforts like this, that celebrate their community and build leadership skills.
"The summit gave me yet another opportunity to see our students shine and share life experiences and the importance of finding their voice," Roukey said. "I'm so proud of the growth I have seen and what this summit has done to help our students understand how much our community needs their leadership. This experience was amazing."
Moyo said the keynote address, delivered by Ward 5 Board of School Committee member Jason Bonilla, was particularly moving, as his life experiences and insights resonated with many of the students in attendance. Moyo also raised up the words of Thaline Rodene, Central's GEAR UP advisor, and Catherine Kabala, Central's Student Assistance Program Counselor, as a call to action for young people everywhere.
"They reminded us that we possess the power to effect change in the world simply by believing in ourselves and taking action," Moyo said. "When Jason Bonilla emphasized that 'you don't have to speak English to be number one,' he was invoking the powerful example of Bad Bunny, the global pop star who uses his music to challenge entrenched social norms in the Latino community and speak out against political injustices in his native Puerto Rico. Many students across Central could resonate with that. In short, the SAC summit was a transformative event that left an everlasting mark on all who were fortunate enough to be a part of it."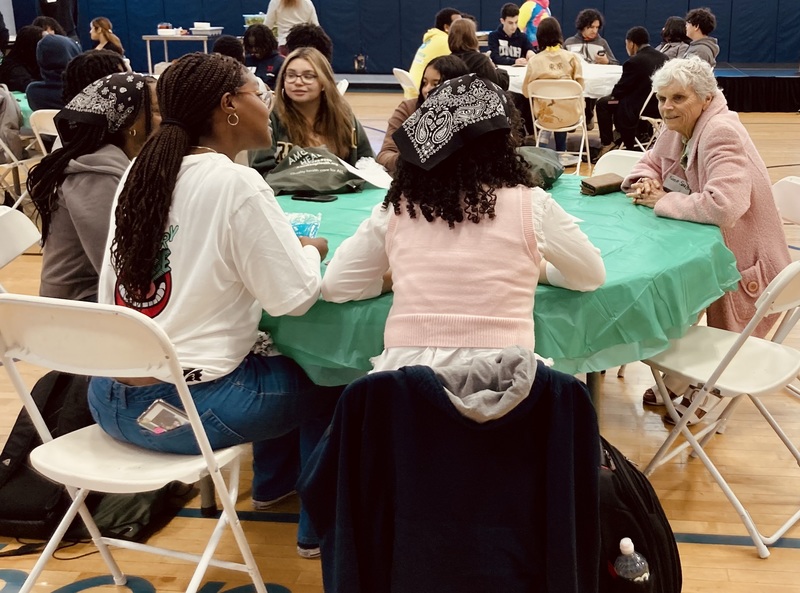 Community members were present throughout the event, some helping lead sessions with students, and others joining students for lunch-time small group discussions. Ha My Mai, another member of the SAC who helped plan the event, said that seeing support from outside the Central community at the event was encouraging.
"It was nice seeing the support from our community, seeing how many people showed up and enjoyed the summit," Mai said. "The interactive sessions were enjoyable, too, and I realized how important perspective is. It is important in many scenarios to not only see the person in front of you but to take into account others who are affected or in a similar situation."
Anna Kual, another student event organizer, said the summit was a unique experience.
"I enjoyed seeing how students interacted with one another, sharing personal stories and lifting each other up as a team," Kual said. "My motivation for participating was to be a part of something that was elevating the voices of youth. If there are any changes to be made it starts with us, so to participate in something that amplified those voices was moving."
Rosie Lariviere, a counselor at Central, said the event was open to all Central students – around 100 took part in the event. Lariviere said she felt honored to be a part of the event.
"It was a day filled with joy and pride and gave the students the opportunity to celebrate and reflect upon their heritage and personal experiences," Lariviere said. "The summit empowered our youth to speak up to injustices in our society and encouraged them to share their personal experiences regarding growing up in historically marginalized communities if that was applicable to them. I am so proud of the SAC committee and am excited for more events to come."
Kabala, Central's SAP counselor, and Rodene, the school's GEAR UP coordinator, said the event was a powerful and unique opportunity to get students in a space to learn how to support each other and their individual strengths.
"The summit was filled with diverse, like minded students excited to learn and connect," Kabala said. "Students gained insight on how their voices along with supporting each other can make positive changes within their school and community. Many community leaders came to provide support, advice and encouragement to students eager to listen. Students left the summit more connected and motivated to support their peers and work together as a community to make a safer environment for everyone."
"As a Central alum and Student Advocacy Committee (S.A.C) advisor, I was so proud of our students yesterday," Rodene said. "Nearly 100 Central students were excited to attend a youth summit centered around building leadership skills and increasing civic engagement. Even though it was a long day, students were actively involved in the sessions and eager to connect with community leaders. Students were excited to see adults that took the time out of their work day to support them and share some delicious food."
"In high school, we would've loved an opportunity like the Lift Every Voice Summit," Rodene added. "As millennials, it's so inspiring to observe the intelligence and passion of this generation of Manchester School District students. Our hearts are truly full and it reminded us why we love working with students."